Covers You Can't Put Down – The Covergasm Blog H0p
on
June 5, 2014
at
10:47 pm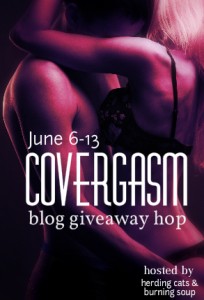 Yep. This one is ALL about the covers. The ones that just make you gasp and go..oh my, I NEED this book. Now! Those that are truly…covergasm-worthy. Stop by each blog to check out their favorites! There will be a giveaway at each stop plus a grand prize giveaway of an Amazon Gift Card! Happy Hopping!
What's your favorite cover?
Legacy of Blood is an urban fantasy novel with some romance in it (but no HEA in this book). In this excerpt, vampire Trehern approaches the human heroine, Jackie. The only other time they've met, he rescued her from another vampire, Morgan. Since vampires are not "out" in this future time, she's still trying to deny they really exist.
Legacy of Blood
It had been a long time since Trehern took so much interest in a human. The last time, he had ended up turning Salome, a decision he'd had many opportunities to be thankful for. Perhaps he should consider Jacqueline for himself. Octavius would be livid if he turned her rather than letting Octavius chose her sire, but that had never stopped Trehern before.
Trehern sat in his car outside her house. He had followed Morgan here in the falling twilight. Now, her garage door lifted and her car emerged. Morgan sped toward his car but the damn fool would never make it in time. She would be safe from Morgan while she was away from home. Whether she knew it or not.
Trehern followed her. At length she parked in the same parking lot they'd found her in a few days ago. The Pacific Science Center. This time she parked close to the door and looked around constantly as she walked inside.
He trailed behind her but quickly lost her in the building. Large rooms with high ceilings melded into one another. He passed through exhibits about nuclear power with blown-up pictures of the atom and Chernobyl. Further on he went through an exhibit about global warming and the damage it had wreaked in the last hundred-plus years.
Finally he came to a doorway with a large sign that said "Epidemics and Pandemics Throughout History." Jacqueline stood on the right side of the room looking into a display box. Her back was to him but he could smell her distinctive scent. Coconut, a trace of lavender, and woman.
He had never seen her in the light. In the dark parking lot he had found her attractive, even in her panicked state. Now, despite the harshness of the overhead lighting, he was caught by her short and delightfully curvy figure and the sheen of dark hair falling down her back. His fingers itched to touch it.
But he was not here to recruit a companion. This woman was valuable, an extremely old soul. She was also apparently intelligent, if visiting a museum was her idea of recreation. He liked intelligent women; after all, a beautiful woman could only captivate him for so long if she could not also stimulate his brain.
Trehern walked over to her. Her fingers, long and slender, rested on the glass case. He imagined her skin would be soft and smooth.
The display case held drawings from the Black Plague. He put his hand next to hers on the glass. "That brings back memories."
Jacqueline jumped, her eyes widening. Before she could move away, he put his other hand on her back and held her in place, careful not to exert so much pressure that he hurt her. "Don't go."
"What are you doing here?" Her voice sounded a little higher than he remembered. Of course, that could be from the fear.
What would it take to calm her, make her trust him? He idly rubbed his thumb against her back, feeling the soft texture of her shirt against his fingertip. "I came to see you. I told you we need to talk."
She looked horrified, and he could feel her struggling. She couldn't escape him, though. Not unless he let her.
Would she scream for help? Somehow he thought she would be too well-bred to make a scene in public. He admired her self-restraint despite her panic.
"What is so interesting about this place that you visit it repeatedly?" He could feel her heart beating as though it were inside his own chest. It slowed ever so slightly.
"They have good exhibits."
"Like this one."
"Yes. Especially this one."
The displays around them abounded with imagery he'd rather not remember and written stories about life during the Black Death. "Why this one? It's quite morbid." He thought of all the beautiful things he'd seen and experienced in his long life. Why was she drawn to this instead?
Her spine stiffened. "It has meaning for me. What's it to you?"
"I want to get to know you better."
Her eyes met his. "Why?"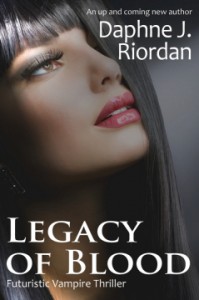 A future built by the survivors of a pandemic.
Twenty years after a pandemic wiped out a third of the population, data analyst Jackie Fournier searches for the location where the disease first appeared, hoping to find out why her little sister had to die.
A country ruled by a dictator.
When certain factions in the government find out about Jackie's project, they send assassin Nash Kerns to stop her. If she doesn't stop digging when the project is shut down, he has orders to kill.
A band of vampires with old souls.
The vampires only turn old souls, people like Jackie. Two vampires want her. One says all he wants is to be with her. The other wants to turn her so he can gain freedom from his sire . . . and he's not above using force.
Amazon US
Amazon UK
Barnes and Noble
Apple iBookstore
All Romance Ebooks
Kobo